Each piece is unique and entirely hand made.
The Studio PL.D. produces unique pieces and some limited editions
The mastery of the technical problems with the sculpture, water circuits, biological and chemical balances being acquired, it serves to the artistic expression. The respect and love for nature necessarily guide the artist to a very realistic goal. And yet the choice of the forms, plants, shapes lead the author to a very personal expression. The scale is particularly determinant and can develop a surreal effect. It is a matter of dreaming. The infinite complexity of nature give sometimes, somewhere the most amazing compositions. It belongs to the artist to choose but also to invent. Is the likelihood not furthermore real ?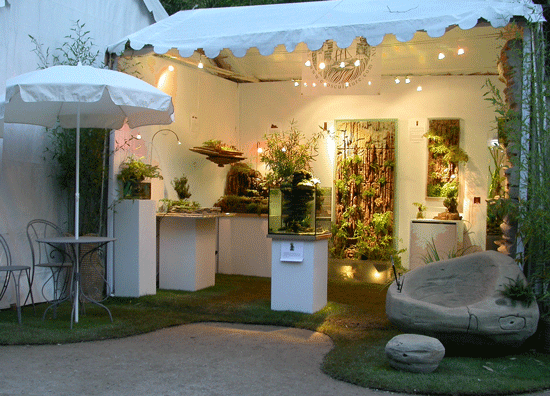 It is important for us to stay loyal to an ecological ethic by limiting tropical plants and animals and by the reconstitution of local ecosystem with local plants to offer to the spectator a living and natural image of a world which we finally realize it's fragility. In this sanctuary, the life of one is necessary to another. That is why the maintenance, observation and the beneficent attachment that we bring to it are so much ecological approaches.
The materials used for the sculptures are recycled Styrofoam, colored earth and resin. The mortar sand/resin/ colored earth applied in thin layers on the polystyrene brings the solidity and the minerals and the whole suffers no alteration. The resin used and the steps of creation ensure the chemical neutrality of the product which is in any way specially fabricated not to impact on the aquatic environment.
We have also developed a partnership with the "Mauritius Marine Conservation Society" in Mauritius who works for the protection of the coral reefs by creating zones of artificial reefs, protected areas where fishing is prohibited and awareness campaigns in schools : www.mmcs-ngo.org
©2012 - Atelier Paul Louis Duranton - All rights reserved - Partners - Référencement naturel